Timothy J. O'Hara J.D.
Barrister, Solicitor, Notary

Brief Bio
Although not raised in Alberta, Tim is the fifth generation of O'Hara to live in Alberta. His great great grandfather, Joseph Henry O'Hara (then spelt O'Heare and sometimes O'Hare) a farmer and lumberjack from the Ottawa valley descended from labourers on the Rideau Canal, homesteaded in Bulwark (then Lindsville, now no longer exists), Alberta in 1905. His Grandmother in 1939 when his grandfather enlisted in the army at the outbreak of WWII, wanted to go back to her family in Ontario. Tim was raised there and came to Alberta in 1977.
Professional Background
Tim's undergraduate degree is a specialist degree in English Literature from the University of Toronto in 1976. After he came to Calgary, he worked for a total of a year and a half for the Bank of Montreal as a trainee then Administrative and Assistant Manager. He graduated with his law degree from the University of Calgary in 1981. In the past, he has worked with Neil V. German Q.C. who was a Rhodes Scholar and former President of the Canadian Chamber of Commerce. He has also worked with R. Gary Dickson Q.C. who is the former Member of the Legislative Assembly for Calgary Buffalo and Privacy Commissioner for the Province of Saskatchewan. Although much of Tim's training is in commercial litigation his practice has evolved over the years into a corporate, commercial, real estate and wills and estates practice. Over the course of his practice of law, he has been involved in almost all the facets of law, including criminal and family and is a very good source of information for the practice of law as well as many crossover areas where several areas of law need to be understood in order to interpret a complex situation.
Professional Philosophy
Tim believes that the resolution of any legal entanglement, be it a lawsuit or a contract, is when each side respects the position of the opposing party. They do not have to like it but unless you respect the position of the other side you can never see the sense of settlement or compromise.
He believes there are only two occasions when there are irresolvable disputes: When the issue of law has not yet been determined and when one or both the parties do not respect the position of the opposing party. The lines of communication must be fair and clear and the option to disagree and pursue the matter must be left ultimately to the adversarial system within the tradition of the Common Law.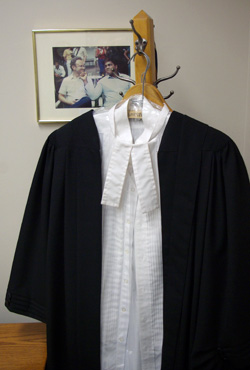 Highlights:
Prepared over 850 wills
Admitted to the Bar of Alberta 1982
Former Bar Admission Adjudicator
Former Chinook Learning Services Instructor
Representative lawyer on 4 decisions reported in Provincial and National Report Services
Areas of practice: Corporate, Commercial, Wills, Probate, and personal and commercial Real Estate Areas of Law.
Works of Fiction
Monday Night Hockey
Contact:
Direct Line: (403) 229-2533
Email: OHara@CampbellOHara.com
Assistant: Tanya
Direct Line: (403) 229-2938
Email: Assistant@CampbellOHara.com
MyLinkedIn Profile